GCSE is also popular among homeschoolers, and adult students. Though IGCSE is being taken by students typically in the age group 14-16 (or 15-17 depending on primary 1 entry age), it also allows students from alternative education and adult students to sit for the exam and continue personal education advancement. Do not worry about the age limit because IGCSE do not have a age limit. You can still sit for IGCSE if you are 30 years old!! Study at your own pace.
Flowchart of IGCSE in Malaysia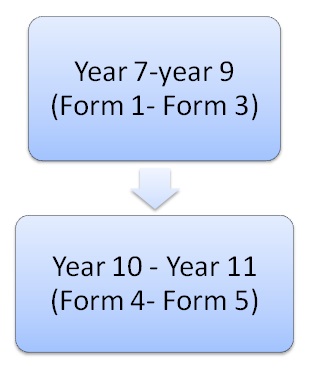 Year 7-9
Our online program only offers
English
Bahasa Melayu
Science
Year 10-11
English
Bahasa Melayu
Mathematics
Additional Math
Chemistry
Biology
Physics
Science
Business Studies
Note:
Please understand, at the end of every trimester, we need to review your student's performance. This will ensure that he will be in the right track. You may need to either take an online test or directly come to our center.